The Origin
In 2019, Origin Coffee Roasters was established in Kihei, Hawai'i. As a roaster with our operations based in a coffee growing region, our intention is to highlight the origin & source of our beans.
Recognized as the island's most award-winning coffee roaster, Origin Coffee is proud to have put specialty coffee on the map in Maui. From winning Maui's Best Coffee Roaster, to a consistent winner of scores above 90pts from Coffee Review, along with roasting the first ever Maui grown coffee to be on Coffee Review's Top 30 Coffees. Our staff's expertise & skill has impacted the culture of coffee on the island and made us leaders in our industry.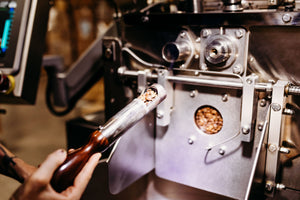 The Founder
Origin's founder & roaster Heather Brisson-Lutz is no stranger to the specialty coffee scene. Her journey with coffee began as a part-time barista in the mid-west. It wasn't long before this became a full-time career. Heather was inspired by cafes and roasters in the PNW, and within a few years she was on a successful path honing her craft as a barista in Portland, Oregon.
Over the years Heather became more intrigued by the roasting process, and especially interested in the intricate journey coffee takes from farm to cup. She envisioned each one, from the farmers hands, to the skilled roast-master & baristas, to the customers first taste.
As a small business owner, she knows the job is never done. Whether is it working directly with local farmers, developing roast profiles, packaging & sales, she is a well-seasoned professional continuing to innovate and lead in the field.
A lifelong dream to be in Hawai'i has brought Heather and her family to the island and she commits to establishing the strongest connection possible to this spectacular growing region and its vibrant community of coffee lovers.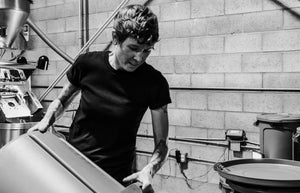 "Our goal is to never stop learning within our industry and beyond it. This ensures we deliver a product we are proud of, something the customer will love. "
The Farmers
We believe that having a direct relationship at the farm level benefits the impact we have to our consumers. Farmers and their workers are an integral part of the quality of coffee we source. When a partnership is formed between farmer and roaster there is more honest and collaborative purchasing relationship and opportunities for experimental methods and further innovation.
Farmworkers are on the frontline of the crop. They nurture the quality and care that comes forth at first taste. We know that by infusing lasting relationships at the farm level that it creates a higher success rate for us all. Origin Coffee Roasters are about doing better. We don't rely on labels or policies as much as we rely on building and keeping successful and stable relationships, and it shows in our farm direct partnerships and throughout our entire company culture.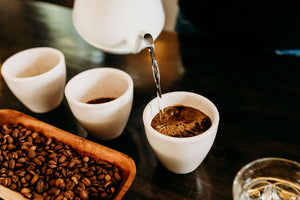 Local Pick Up Option at Checkout?

If you are local to Maui or visiting at the time of your purchase you can select "Local Pick-up" at checkout. Pick-up location is Maui Brewing Co. at 605 Lipoa Parkway in Kihei. Please use the main entrance of Maui Brew Co.'s Restaurant and proceed to the front Desk/Merch area. Let them know you are there for an Origin Coffee Pick up and provide your name. Please verify hours of operation before picking up.

Allow minimum 24-48 hours to process order.
Are You Open to the Public?

We currently do not have a cafe to welcome locals and visitors to enjoy our coffees.

We are located inside of Maui Brewing Company's production facility in Kihei. You will find many of our top selling coffees & blends along with our RTD Nitro Cold Brew cans for sale at their restaurant's front desk/merch area.
Return Policy

At Origin Coffee Rosters our goal is to provide you with outstanding service, delicious coffee, and the maximum quality products and goods.

If you are dissatisfied with your purchase in anyway please don't hesitate to reach out to us about a return or exchange within 30 days of purchase. We ensure you that we will do our best to make you happy.

Please note that we cannot accept returns on coffee due to its perishable nature. Our return policy pertains strictly to merchandise .
Do You Have a Wholesale Program?

Yes! Please use our contact form to reach out about our wholesale program. Provide a brief description of your business and what you're looking for in a wholesale partnership.
Cold Brew Can Shelf Life?

Check the bottom of the can for "Best By" date, 10-15 days for growlers when properly refrigerated
Where Can I Buy Origin Coffee on Maui?

South Maui:
Maui Brewing Company
The Market Wailea
Da Green Café
Blue Door Bakery
Hawaiian Moons

Kahului/Wailuku:
Down to Earth
Alive & Well
62 Marcket

Upcountry:
​Morihara Store Marlow Restaurant & Cafe. Espresso Mafia. The Maui Cookie Lady. Rodeo General Store

Paia/Haiku:
Mana Foods
Kuau Store
Colleen's at the Cannery
Pauwela Store

Lahaina/West Side:
Kai Cafe - The Ritz Carlton